Kosta Alex
(1925 – 2005)
Jean Planque first met Kosta Alex in Paris around 1958–59.
Having heard of his skill in building, he asked if Kosta Alex would be willing to remodel a small apartment he had just bought on Rue Mazarine. In a few months the dynamic American succeeded in tripling the apartment's square footage. This was the beginning of a solid, joyous friendship between the two men, which never flagged over the years.
It was only later that Alex, as he now called himself, told Planque that he was actually an artist. On visiting the small room that served as the latter's studio, the collector was stunned to discover an ensemble of unique terracotta sculptures, in particular an extraordinary series of male figures wearing hats. Immediately swept with enthusiasm, he marveled at the sculptor's technical prowess in giving shape to the ideas generated by his teeming, powerful, droll imagination. He bought several works to give the sculptor more freedom to devote himself to his art, and he put him in touch with the Galerie Claude Bernard in Paris, where Kosta Alex had his first soloshow in 1964.
Planque was particularly taken with the classical treatment of forms in the young artist's universe and the way this classicism emerges in his whimsical, simplified figures. He was equally impressed by the technical virtuosity that Alex displayed in his cardboard and wood assemblages and in his bronze pieces. In Alex's art he recognized a vigorous energy that was capable of inventing and renewing its idiom while constantly surprising the viewer.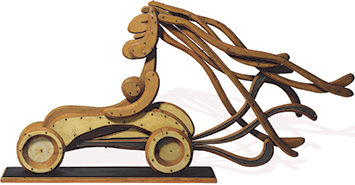 L'échappée belle, 1966
Painted wood
Height: 80 cm