Jean Planque
1910, 7th of July: Jean Planque born in Ferreyres in the canton of Vaud, the only son in a family of six children.
1929: Obtain a diploma at the Lausanne School of Commerce, at the age of nineteen. On the road to the school, he discovered modern art: in the window of the Vallotton gallery.
1929-1932: Planque left for Basel, to work for an insurance company. Meet Walter Schüpfer, a painter and musician who acquainted him with the museums and the artists of the town.
1933-1936: Returned to his family on the bankruptcy of his employer. His mother died suddenly and Planque assumed the charge of his family. He took on several types of job, particularly that of travelling salesman for a cattle feed manufacturer.
1939-1945: At the outbreak of war, he worked on the sale of lime for farmers. Being an excellent salesman, he only needed to work part-time. In 1942 he settled in Ouchy and met René Auberjonois, Charles-Albert Cingria, Lélo Fiaux and Henry-Louis Mermod. He also made the acquaintance of Albert Skira, a publisher who had opened a gallery at Geneva and from whom he bought several important paintings for a friend.
1945: After the war, he and a chemist friend developed a revolutionary food concentrate for pigs. The sale of this product gave him a lasting income.
1946: Travels in Italy. In the same year, and quite by chance, he went into the Tanner Gallery in Zurich and agreed to work with them for some months.
1948-1951: Thanks to the income from his invention, Planque went to live in Provence on the trail of Cézanne, the painter whom he most admired. He lived on a farm at Saint-Ser, in the commune of Puyloubier and worked relentlessly to perfect his technique.
1951-1952: Went to Paris where he visited art galleries and assiduously followed the classes of the Académie de la Grande Chaumière. He was deeply moved by the abstract paintings of Manessier. This was another revelation : he realised that he had been wasting his time and decided to make up for it by visiting galleries specialised in contemporary painting.
1952:Met Suzanne Cizey, a milliner who became his companion.
1954: Finding that his invention could not be patented, he abruptly needed to earn his living again. In August, he went to Basel, where his friend Schüpfer proposed visiting Ernst Beyeler who, having opened a gallery, might need his services. It was the beginning of a collaboration that lasted until 1972.
1955-1956: Having been quite reticent about the paintings of Dubuffet, he suddenly found them fascinating.
1957: Dubuffet asked to meet Planque and Beyeler. There resulted an association for the exclusive sale of the artist's lithographs. Planque also made the acquaintance of many painters, such as Sonia Delaunay, Bazaine, Bissière, Clavé, Hantaï, Hans Berger and Kosta Alex, with whom he became friends.
1958-1959: Planque assisted Dubuffet with his lithography and gained his confidence. Met Tobey and Sam Francis.
1960: On his 50th birthday, he met Picasso for the first time, offering him the purchase of a portrait by Cézanne.
1962: When Dubuffet found himself without a dealer, Planque suggested that the Beyeler Gallery could take charge of selling his paintings in Europe and the Jeanne Bucher could do it for Paris. Met Giacometti, with whom he had several interviews.
1963: Visited Aloïse in her asylum at La Rosière, near Gimel.
1964: With Dubuffet, he prepared the great exhibition at the Palazzo Grassi in Venice at which L'Hourloupe was presented to the public for the first time.
1965-1966: Visited Picasso several times.
1967: For a trivial reason, Dubuffet no longer confided in him. This break was very hard for Planque until their reconciliation in 1973.
1972: Planque fell ill and returned to Morges, putting an end to his activity with the gallery in Basel, while still giving Beyeler valuable advice. He began writing his memoirs and assiduously applied himself to painting.
1981: He moved to La Sarraz, a small town near Ferreyres, the village of his birth; he lived surrounded by his paintings and every day worked on his painting technique.
1995: 3 September: death of Suzanne Planque.
1997: In January, he set up the Fondation Jean et Suzanne Planque.
1998: Planque died on the 27th of August from injuries received in a road accident.
Detailed biography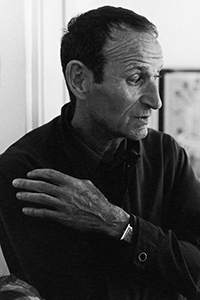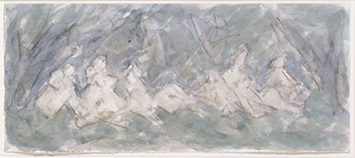 Jean Planque,
Baigneuses d'après Cézanne, n.d.,
watercolour, 32,5 x 13,5 cm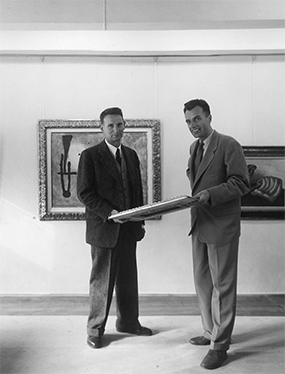 Jean Planque and Ernst Beyeler at Basel around 1960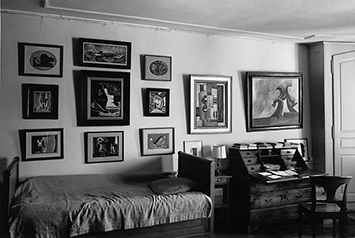 The room of Jean Planque at La Sarraz